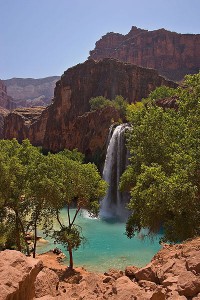 Welcome to turquoise-color.com. This website is a source for information about turquoise color and turquoise facts.
This wonderful stone has captivated people for thousands of years and has even helped shape the face of civilizations throughout the world. If you are interested in learning more about turquoise color, style and history, this is the right site for you.
You'll learn about how turquoise gets its color, but more importantly, what colors go with turquoise and how to wear turquoise with different outfits and styles. This is a great destination for people who want to learn
In some circles, turquoise is considered a healing stone that offers spiritual and mystical healing properties such as good luck, the ability to ward off evil spirits and the enhancement of positive energy.
Turquoise Color: The Stones
Turquoise stones get their color form elements in the ground such as copper, aluminum and phosphate. Turquoise forms in dry, arid climates where rainwater and moisture doesn't wash away the compounds that form turquoise and contribute to its color.
The turquoise color will vary depending on where the stones form. For instance, in Nevada, turquoise stones often develop a green hue that ranges form light green to a deeper green color and even brown.
Turquoise Color: Designs and Clothing
Turquoise is a popular color for home design that can really liven up a living space. To get the right color turquoise many people mix shades of blue and green together, sometimes with a splash of yellow.
The sky blue turquoise color is a good option for people who want to lighten up a room with good natural lighting and helps to bring the outdoors inside.
Turquoise clothing is another popular use of the color. Turquoise color can add a nice pop to any outfit during any fashion season.

Turquoise color comes in a handful of different shades and types. It has become wildly popular among celebrities as well as everyday people all over the world. When it comes to fashion, turquoise color draws a reaction like few other colors that exist in the spectrum. Much like the stone that bears its namesake, turquoise color is truly a sight to behold in several fashions and forms.
Turquoise Color in Fashion
Turquoise color has been the "next big thing" in fashion for quite a while. Whether it be shoes, dresses, hair accents or jewelry, turquoise in fashion always draws and overwhelmingly positive and pleasant reaction from friends, co-workers and perfect strangers alike. Turquoise color ranges from light to medium blue to a greenish-blue. No matter how used, turquoise is sure to always be an attention-grabber no matter where you are.
Turquoise Color in the Home
Turquoise color in the home is very fashionable in its own right. Depending on the shade, turquoise color can add warmth, joy, positivity or a complete breath of fresh air. Turquoise can also be used to create a beach-like, waterfront type of atmosphere in the home. You can bring all the splendor of a sandy beach on a warm summer day right to your very own home! Adding turquoise to your home or office can do wonders for your mood and outlook. It can also provide you with a sense of accomplishment once you complete your new home décor.
Check out some of the other pages on this site to learn more about turquoise color and how you can add some color in your life.